Employee Discounts From EmployeeAndMemberDiscounts.com
What Are Employee Discounts?
Do you really save when you use employee discounts?
It seems that prices are rising higher and higher with no end in sight. You may earn a pretty good paycheck but wouldn't it be nice if there was a way to not only earn that check but also get discounts on things you buy regularly? We may have a way for you to save money simply by reporting to work each day, allowing you to stretch your paycheck even farther and get a reward for your hard work through Employee Discount Programs.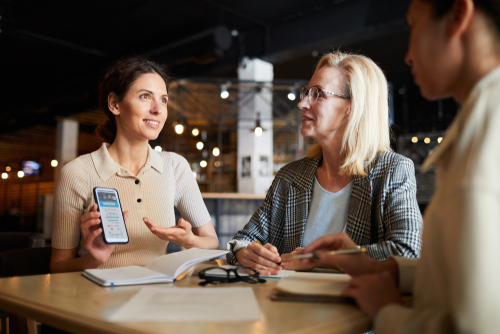 Become A Member!
And get access to exclusive offers and deals from the top brands and retailers

Financial Products & Services
What Are Employee Discounts?
When you work for certain companies, one of the employee perks is discounts on certain goods and services. Although not all companies offer corporate discount programs, many allow their employees to take advantage of lower prices on goods and services they sell. Some companies may also have partnerships with other companies that provide discounts for employees for items that another company offers. Not only do for-profit businesses offer corporate discounts, some non-profit organizations also offer savings to members. These are normally offered in partnership with specific companies.
Does My Company Offer an Employee Discount?
Chances are that one of the corporate perks offered by your company is a discount program. They may partner with a rental car agency, allowing you to get a lower rate on a rental simply because you are an employee of that company. Other perks at work discounts may include savings at local businesses that have joined with your company to offer similar benefits to their own employees. A local eyeglass company may offer reduced eyeglasses to employees of your company in exchange for their employees getting a similar discount on goods or services your company offers.
Ask About Employee Perks Program
The best way to find out if employee benefits at your company include discounts is to ask your Human Resources Department or your immediate supervisor. If one of the perks employee and members are provided is discounts on certain items, your supervisor or HR director will know and can tell you how to access the staff benefits. If you have been issued identification badges, you may simply need to show those as proof of where you work to get the discount. It is also possible your company has a membership in employee discount websites that compile and offer a wide range of discounts as part of their employees benefits.
Why do Companies Offer Employee Discount Programs?
One reason an employer may offer certain perks employee discounts included, is to recruit the best and the brightest employees possible. Corporate discount programs also help retain high-quality employees as the discounts for employees helps them stretch their paycheck even farther. There has been significant research that shows most employees remain at a company not necessarily because of the pay but because of the company benefits they receive. Employees benefits programs are a great way to keep your best employees at your company and to recruit additional high-quality staff.
What Types of Corporate Discounts Can I Get?
There is no limit to the employee perks offered by employers in the way of discounts for employees. You can get an employee discount on clothing, health supplies, beauty needs, home goods and cell phones. Companies may offer employee discounts on travel, home mortgages and lifestyle services. Many of the corporate perks offered may depend on partnerships your company has with others. However, there is another way that you and your company can easily add an employee perks program that includes discounts without going business-to-business to create partnerships. Through discount websites like EmployeeandMemberBenefits.com, you can find discounts you can actually use.
Perks Employee Discounts and More
When it comes to perks employee and members want most, saving money is usually at the top of the list. EmployeeandMemberDiscounts.com provides you with one location where you can find thousands of employee discount options that were previously only available to members of certain organizations or employees in certain industries, including first responders, alumni or students. The perks experts at EmployeeandMemberDiscounts.com have compiled and listed some of the best perks at work discounts available, making them available to anyone. There is never a membership fee and you can register at any time. As soon as you register, you can begin accessing savings through the same staff benefits that firefighters, military members, teachers and students are able to receive.
Employee Perks Program Information for Employers
If you are an employer and are looking for a great way to retain valued employees, creating a corporate discounts benefit is a great way to keep your best employees on board. It is also a great way to recruit new employees when it is time to hire. The perks experts at EmployeesandMemberDiscounts.com can help you create customized discount programs that have discounts your staff can actually use. They can register at any time and begin saving money right away. This is one of the best ways to thank your staff for the hard work they do each day while also providing them with a way to save money for their own household.
Why Employees Like Corporate Discount Programs
There are many reasons why employee perks programs are important to your staff. You may offer many employee benefits, such as health insurance, disability and vacation pay. These are very important but many companies offer those benefits. Let's face it, employees like to save money and an employee savings program allows them to do just that. EmployeeandMemberDiscounts.com offers nationally recognized discounts that may tip the scale for an employee who is considering accepting an offer of employment. Research indicates that younger employees often take second jobs solely for the discount they receive so why not offer that same discount as part of your benefits package?
If you want to provide your employees with one of the best employee benefits, contact us at EmployeeandMemberDiscounts.com to learn how we can create an employee discount programs that your staff will find extremely helpful. It will allow them to stretch their paycheck and obtain products or services that will help their own households run smoothly. You can contact us by filling out the easy online form or give us a call today.
Become A Member!
And get access to exclusive offers and deals from the top brands and retailers
Learn More About Our Discounts
Employee Discounts From Brands Like These Get The Best Offers And Discounts From The Best Brands

Auto And Car Employee Discounts
Shop for Employee Discounts on Auto Services, Auto Warranties, Car Buying Services, Car Insurance, Car Auto Loans, Car Parts And Accessories, Roadside Assistance, and Tire Discounts.

Entertainment Employee Discounts
If you are an employee looking for fun and Discounts on entertainment, we have deals on Golf Discounts, Theme Park Discounts, Movie Ticket Discounts, and Magazine & Newspapers Discounts.

Financial Employee Discounts
Get Employee Perks on Financial Services Discounts, Credit Cards, Credit Repair, Credit Scores & Monitoring, Home Loans And Refi, ID Monitoring & Protection, and even Personal Loans.

Health And Medical Employee Discounts
Are you an Employee looking for CBD Oil Discounts, Dental Discounts, Health Insurance, Hearing Aids, Makeup Discounts, Medicare, Medical Alert Discounts, Prescription Discounts, Vitamins And Supplements, or Vision Discounts, we have promotions designed for you.

Home Services Employee Discounts
If you are an employee looking for fun and Discounts on entertainment, we have deals on Golf Discounts, Theme Park Discounts, Movie Ticket Discounts, and Magazine & Newspapers Discounts.

Insurance & Warranty Employee Discounts
Get peace of mind with discounts for employees on complete coverage with Car Insurance, Health Insurance, Home Insurance, Home Warranty, Life Insurance, Medicare, and Renters Insurance.

Travel & Vacations Employee Discounts
Employees can save on their next vacation or trip with Travel And Vacation Discounts on Airlines And Flights, Car Rentals, Cruises, Hotels, Camping, RVs and Resort Deals.

Pet Offers Employee Discounts
Are you an employee with a furry family member? Save on Pet Offers And Discounts on products and services like Pet Insurance, Pet Care, and Emotional Support Animal Registration.

Unique Offers Employee Discounts
We provide Unique And Special Offers to employees on products like Baby Clothes And Gifts, Clothing, Flowers, School Supplies, Shoes, Watches, and Jewelry. We also have deals on Wedding Favors And Gifts, as well as Free Sample offer and Coupons.
We Offer Our Employee Discounts To The Employees Of Companies Like:
*The companies below do not endorse our program and EmployeeAndBemberDiscounts.com makes our offers available to their employees as a courtesy.
Their respective logos  or tradenames are registered trademarks and/or service marks of their respective companies.