Corporate Employee Discounts And Perks
Corporate Employee Discounts
Do you really save when shopping for corporate discounts?
In today's competitive job market, many employers are searching for ways to attract and retain the best employees. A good company realizes that their most valuable asset is the people who help them succeed. What may be surprising is that, although salary is important, there are other corporate perks that employees find important. A recent study found that 48 percent of employees look at the benefits and corporate employee perks when they decide to accept a position or remain with a company. Although some of the perks are expected, such as healthcare options, some may be surprising.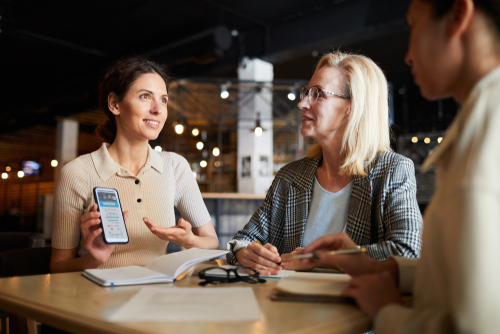 Become A Member!
And get access to exclusive offers and deals from the top brands and retailers

Financial Products & Services
Employee Recognition Programs
Being recognized for a good job is something every person cherishes. Whether it is a simple thank you or a compliment on a project you completed, everyone wants to be told they are valued as an employee. Research shows that employees who are not recognized at work are twice as likely to take a position and that companies with employees who feel engaged are 12 percent more profitable. There are many ways you can recognize employees. Using corporate vacation discounts, you can send your top employees on a trip as a way to recognize their hard work. If your staff wears a uniform of some type, creating corporate clothes with a "Star Employee" emblem is another great way to let your staff know you appreciate all they do.
Wellness Programs
Wellness programs are corporate perks that have more than one benefit. A 2015 study found that sedentary lifestyles have negative impacts on health. For this reason, you may be able to find corporate employee insurance discounts by offering wellness programs at your business. Not only can you save money on your health insurance costs, your employees will be able to improve their health in a fun way. You can offer simple wellness programs that include biometric screening or contests to see who can get the most steps in a week. There are even apps available that promote corporate wellness in a fun, unique way to get your staff moving, create a healthier atmosphere in the office and may even earn you corporate employee insurance discounts.
Food Options
Because we spend a large percentage of our life at work, much of our food consumption also occurs in the office. Employees are growing weary of the typical snack machines and occasional donuts in the break room. A recent survey found that food options in the workplace were one of their favorite corporate employee perks. More and more, people are seeking healthier options, so it is important that when you decide to offer food at the office, you keep healthier eating in mind. There are many options for providing food in your office. There are many snack companies that now offer healthier alternatives other than chips and candy bars. You can even arrange for a healthy lunch to be delivered to the office one or two times each week. Even if you have a large number of employees who work remotely, you can arrange for delivery of a healthy meal occasionally as an employee perk. Not only will your employees be healthier, you will foster loyalty and strengthen your relationship with your staff.
Paid Time Off
Studies have shown that experiences contribute to long-term happiness once we have met our basic needs, like food, shelter and clothing. This may be why a large majority of employees report that they would rather have additional paid time off than a salary increase. Companies who have instituted an unlimited vacation policy report that their employees are more productive than when they offered limited vacation or sick time. If this is not possible for your company, you can institute a shortened work week during slow periods. In this type of schedule, your staff works longer hours four days each week with the ability to take off on the fifth day. This allows them to access corporate travel discounts in order to relax and recharge.
Paid Sick Days
Different than other paid time off, offering sick days to your staff offers many benefits. Allowing your employees who do not feel well to remain home lets them know they are cared for and appreciated. It also helps keep other employees healthy. Research shows that colds and flu spread quickly through office settings. This may be because people without paid sick live are almost twice as likely to go to work when they are sick, even if what they have is a contagious illness. Offering paid sick leave may also allow you to access corporate employee insurance discounts.
Retirement or Pension Plans
Your employees may love their job, but they still look forward to the day they can retire. They may want to access those corporate travel discounts to visit exotic places. However, only 32 percent of employees who do not have a company-sponsored retirement plan believe they can retire comfortably. Offering a retirement plan also doubles the chance that an employee will be satisfied with the corporate perks offered by your business. In addition, 31 percent of people who do not have company retirement plans will take a job with another company that offers such options. Financial advisors may offer corporate employee discounts for setting up 401(k), pension or other retirement plans.
Flexible Scheduling
Working from home is becoming increasingly popular, both with employers and employees. Today's professional deals with a wide range of personal and professional responsibilities that include education, family obligations and the need to provide financially. According to the Bureau of Labor Statistics, 60 percent of children have two working parents. Allowing your staff to work from home demonstrates that they are a trusted partner, leading to higher engagement and a greater quality of life. Corporate discounts may be available for routers, laptops and other equipment necessary to help your staff work from home while also allowing you to improve productivity.
Corporate Discounts Program
Corporate shopping discounts are another great way to engage your staff and let them know you care about them. Employees in any industry try to stretch their money as much as they can. By offering corporate discounts to your staff, you can help them save money that can then be used in other areas of their life. Your staff can use corporate vacation discounts to take their family on a dream trip or they can use corporate auto discounts to replace a vehicle that may not be reliable or safe. They can update their wardrobe using corporate clothes discounts or save money with the many other corporate shopping perks available through discount programs.
If you are looking for ways to engage your employees, be sure to visit EmployeeandMemberDiscounts.com. You can find corporate travel discounts, corporate clothes savings and more. These were savings that were only available to employees in certain industries, like first responders, or members of certain organizations, like alumni. Now, they are available to anyone. If you are considering your own corporate employee discounts program, contact us today and we can help you set up a customized corporate discount program so that your staff can access corporate shopping perks.
Become A Member!
And get access to exclusive offers and deals from the top brands and retailers
Learn More About Our Discounts
Employee Discounts From Brands Like These Get The Best Offers And Discounts From The Best Brands

Auto And Car Corporate Discounts
Shop for Employee Discounts on Auto Services, Auto Warranties, Car Buying Services, Car Insurance, Car Auto Loans, Car Parts And Accessories, Roadside Assistance, and Tire Discounts.

Entertainment Corporate Discounts
If you are an employee looking for fun and Discounts on entertainment, we have deals on Golf Discounts, Theme Park Discounts, Movie Ticket Discounts, and Magazine & Newspapers Discounts.

Financial Corporate Discounts
Get Employee Perks on Financial Services Discounts, Credit Cards, Credit Repair, Credit Scores & Monitoring, Home Loans And Refi, ID Monitoring & Protection, and even Personal Loans.

Health And Medical Corporate Discounts
Are you an Employee looking for Supplement Discounts, Dental Discounts, Health Insurance, Hearing Aids, Makeup Discounts, Medicare, Medical Alert Discounts, Prescription Discounts, Vitamins And Supplements, or Vision Discounts, we have promotions designed for you.

Home Services Corporate Discounts
If you are an employee looking for fun and Discounts on entertainment, we have deals on Golf Discounts, Theme Park Discounts, Movie Ticket Discounts, and Magazine & Newspapers Discounts.

Insurance & Warranty Corporate Discounts
Get peace of mind with discounts for employees on complete coverage with Car Insurance, Health Insurance, Home Insurance, Home Warranty, Life Insurance, Medicare, and Renters Insurance.

Travel & Vacations Corporate Discounts
Employees can save on their next vacation or trip with Travel And Vacation Discounts on Airlines And Flights, Car Rentals, Cruises, Hotels, Camping, RVs and Resort Deals.

Pet Offers Corporate Discounts
Are you an employee with a furry family member? Save on Pet Offers And Discounts on products and services like Pet Insurance, Pet Care, and Emotional Support Animal Registration.

Unique Offers Corporate Discounts
We provide Unique And Special Offers to employees on products like Baby Clothes And Gifts, Clothing, Flowers, School Supplies, Shoes, Watches, and Jewelry. We also have deals on Wedding Favors And Gifts, as well as Free Sample offer and Coupons.
We Offer Our Corporate Shopping Employee Discounts To The Employees Of Corporations Like:
*The companies below do not endorse our program and EmployeeAndBemberDiscounts.com makes our offers available to their employees as a courtesy.
Their respective logos  or tradenames are registered trademarks and/or service marks of their respective companies.